Magnetic Therapy for Tinnitus? Not Yet.
In a subsidized movement to prove the obvious, scientists recently conducted an experiment on magnetic therapy for tinnitus, and concluded that…it doesn't work. Really? Magnets to stop ear ringing from tinnitus?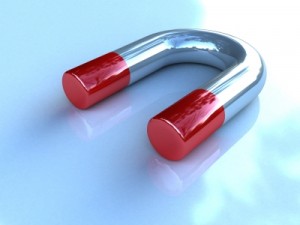 Tinnitus ear ringing
Constant ear ringing, buzzing, and whistling sounds from tinnitus is enough to drive anybody mad…crazy enough to try magnetic therapy, using a magnet to draw electrical currents to the brain, a treatment that is still practiced in Europe.
By activating the auditory nerves that control hearing, some doctors claim that repetitive transcranial magnetic stimulation, or rTMS, can have a "mild to moderate, short-lasting effect" on tinnitus.
However, according to this latest study on magnetic therapy for tinnitus, when compared with a sham (fake) tinnitus treatment, transcranial magnetic stimulation "was no more effective than sham for patients with chronic bothersome tinnitus."
Magnetic therapy, debunked
For the study, scientists chose 14 people aged 22-59 who suffered from chronic tinnitus, and subjected them to one of two tinnitus treatments for four weeks; each participant either received the magnetic stimulation therapy, or a sham non-magnetic tinnitus therapy.
In this crossover, double-blind randomized controlled study, scientists found no change in agitation caused by tinnitus. Suffering due to constant ear ringing remained constant and unaffected in either group, regardless of whether they received the magnetic therapy or the fake tinnitus therapy.
Tinnitus is neurological
But they're on to something, because tinnitus is a condition that occurs in the brain. That persistent hum or ringing sound that never seems to end is part of a neurological disorder that happens when nerve cells in the ears are damaged, creating a disruption in communication with the brain.
Nerve damage may result from hearing a loud explosion, listening to very loud music on your iPod using earbuds, or taking certain medications for an extended period that can have a toxic effect on your ears. Hypertension, chronic ear infections, and neuropathy can also increase your risk for tinnitus.
Tinnitus cures?
While there are no tinnitus cures, doctors recommend certain therapies, including ones that help you learn how to "quiet" tinnitus noise, and others that fortify neurological functioning to reduce tinnitus triggers.
Approved therapies for tinnitus include:
Natural vitamins, minerals, and herbs:
Ginkgo biloba, zinc, magnesium, B vitamins, and alpha lipoic acids are key ingredients that strengthen neurological health, promote healthy blood circulation, and destroy free radicals.
Other natural therapies for tinnitus include:
Hypnosis
Tinnitus retraining therapy (TRT)
White noise
Restrictive dieting
Sodium reduction
Relaxation
Exercise
Acupuncture
Biofeedback
 You may also like:
Top 3 Ginkgo Biloba Health Benefits
Actually, Tinnitus isn't an Ear Problem
Toxic Medications that Cause Tinnitus: Ototoxicity
Source:
Low-Frequency Repetitive Transcranial Magnetic Stimulation to the Temporoparietal Junction for Tinnitus
 Image courtesy of Danilo Rizzuti/freedigitalphotos