Actually, Tinnitus isn't an Ear Problem
There's a common misconception that tinnitus lives in the ear; it doesn't. Constant, annoying ringing and buzzing sounds you experience with tinnitus don't usually result from an ear disorder, but rather a breakdown in your brain's nerve cells.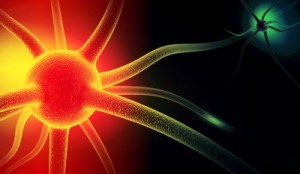 Tinnitus is a condition that causes sufferers to experience a continuous drone or ringing sound in one or both ears for extremely long periods of time. Tinnitus symptoms can last for months or years, and it may fluctuate in volume and location in the ears for each patient.
Tinnitus is extremely difficult to cure, as treatment depends on the cause of tinnitus, of which there are many- old age is the leading cause of tinnitus ear ringing.


However, many types of tinnitus are not age-related. The second-most cause of ear fullness, noise, and headaches caused by tinnitus may occur following extensive noise-induced damage to the nerve cells of the brain that control hearing.


Your inner ear can only tolerate certain decibels of noise, and for a short period of time. If you work in an environment that included prolonged exposure to very loud noises, or if you frequently listen to your iPod on high volume, with earbuds jammed into your ears, then you have a high risk for developing tinnitus.


That's because noise actually kills cochlear nerve cells, triggering hypersensitivity in the remaining neurons of your inner ears, face, and neck area, as they try to compensate for the missing nerve cells by working overtime. Your brain, having not sensed any decrease in messages from the nerve cells, wrongly perceives sounds that don't exist, from neurons in the ears no longer exist, and as a result of the miscommunication, produces "phantom" tinnitus noises.


To treat tinnitus caused by noise, it's essential to nourish the nerve cells, specifically the ones that control hearing. To do this, it's important to maintain neurological integrity, promote good circulation in the brain, and destroy free radicals that can have a toxic effect on your health.
Tips for promoting health with tinnitus include:


Following a healthy diet that avoids tinnitus triggers like sodium, caffeine, preservatives, alcohol, and artificial colorings and flavorings
Eating whole grains, fruits, and vegetables
Exercising daily
Practicing meditation or other relaxation techniques
Wearing ear protection while operating loud machinery or going to concerts
Supplementing with natural vitamins, minerals, and herbs formulated to benefit tinnitus patients


Like this? Read more:

Toxic Medications that Cause Tinnitus: Ototoxicity
Tinnitus: Noise Pollution of the Brain
Sources:


Overactive touch-sensing nerve cells explain common "ringing in the ears"

Noise Exposure Can Cause Long-Lasting Changes To Sensory Pathways; Touch-Sensing Nerve Cells May Lead To Future Tinnitus Treatments

Image(s) courtesy of dream disigns/FreeDigitalPhotos.net