Why Brain Fog Could be Tinnitus
Tinnitus is so much more than just a constant annoying ringing tone you hear in your head all day, and all night. Tinnitus can also interfere with mental concentration, and make you feel out of sorts and dizzy throughout the day. Scientists explain why brain fog is a common complaint for people who suffer from chronic tinnitus.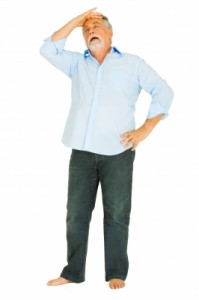 According to recent studies, people with long-term tinnitus or hearing loss are most likely than others to experience a sharp decline in cognitive skills needed for thinking, concentrating, and retaining memory.
Consequently, among elderly individuals with hearing loss, tinnitus patients who don't receive treatment are more likely to suffer from brain fog and memory problems than patients who take measures to control tinnitus that often occurs with aging.
In the study conducted by Johns Hopkins University School, scientists noted a cognitive decline in hearing loss patients that was 30% to 40% faster than their individuals who didn't have tinnitus or other hearing loss. People who have tinnitus in old age may begin experiencing signs of dementia often described as brain fog at least three years before others in their age group.
Scientists aren't certain why, but they suggest that feelings of loneliness and depression that are comorbid with tinnitus may raise one's risks for early cognitive decline, that by isolating themselves from others, elderly people with hearing problems start feeling the effects of age-related dementia several years earlier than their peers.
It's also believed that tinnitus drains energy; that it takes up too much "brain space" needed for good memory, focus, and thinking skills.
After many years, tinnitus makes it difficult to think about anything else.
To stay focused and alert and avoid brain fog, it's important to learn how to manage tinnitus effectively, so that you're able to work, rest, and relax around friends without distraction.
Treatment tactics that help for tinnitus include:
Wearing ear protection when you fly or use loud machinery
Avoiding triggers in foods, such as sodium, caffeine, dairy products, and artificial additives
Quitting smoking
Getting enough sleep at night, but avoiding napping during the day
Listening to background music, such as white noise or environmental sounds
Practicing relaxation techniques
Avoiding stress
Listening to music at a safe volume
Exercising daily
Limiting or stopping medications that may cause tinnitus
Taking natural vitamins, minerals, and herbs that promote a healthy response to tinnitus triggers
Source:
Hearing Loss Accelerates Brain Function Decline in Older Adults
Image courtesy of Ambro/freedigitalphotos