Vitamin B for Tinnitus? Show me the Proof.
If my tinnitus is caused by ear damage, then how can vitamin B help? That's a common question that people have about natural vitamins, minerals, and herbs for tinnitus and hearing loss. To answer, it's important to understand the cause of tinnitus, and the underlying factors that may be prolonging your symptoms.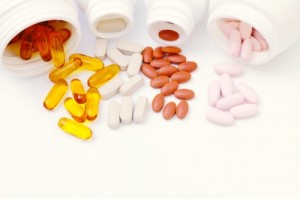 Sometimes, underlying health conditions such as a vitamin B12 deficiency can trigger symptoms that lead to tinnitus.
What is tinnitus?
Tinnitus isn't an illness, but rather a neurological condition that causes you to hear constant irritating noises in your ears, day in, and day out, for months…sometimes years.
Tinnitus ear ringing sounds are only heard by the sufferer, as they don't occur outside the body.
Tinnitus sounds vary- they can imitate the ringing of a telephone, the buzzing of a beehive, the whistling of a tea kettle, or the clicking sounds that a cricket makes.

 
What causes tinnitus?
There is no cure for tinnitus, but there are many causes.
In most cases, tinnitus is caused by damage to the nerve cells of the inner ear. Rarely, tinnitus may be a comorbid condition of a brain tumor.
Some reasons for tinnitus nerve damage are:
•Toxic reaction to medication overuse, such as pain relievers, antidepressants, birth control pills, or antibiotics
•Frequent exposure to loud noises and explosions
•Listening to loud music often on your iPod, with earbuds
•Not wearing hearing protection at loud concerts or while operating loud machinery
•Frequent ear infections
B vitamins and your nerves
Prolonged vitamin B deficiency can damage nerve cells needed for good hearing, vision, muscle coordination, touch, and digestion.
B vitamins protect your nerve cells by maintaining myelin, a smooth coating that insulates your nerve synapses, enhancing speedy communication between the nerve cells and the brain.
A shortage of B vitamins correlates to decreased myelin, which in turn causes a breakdown in the way your brain perceives sound signals, resulting in tinnitus, one of many symptoms of peripheral nerve damage.

 
B vitamins, for heart and hearing
Many studies have confirmed a strong correlation between vitamin B12 deficiency and homocysteine, a potentially toxic amino acid that, when elevated, can increase one's risk for heart attack, stroke, dementia, and hearing loss disorders such as tinnitus.
Similarly, people of the same age groups with normal vitamin B12 levels are less likely to have high blood plasma homocysteine, as vitamin B12 maintains healthy digestion of amino acids and other proteins, reducing the risk for homocysteine toxicity.
For that reason, many doctors recommend checking your vitamin B12 levels regularly, particularly if you are over the age of 60, when vitamin B12 digestion slows down and your risks for hearing loss and tinnitus increase.
Which B vitamins help?
For maximum hearing support, neurological wellness, and homocysteine control, doctors recommend taking the following:
•1,000mcg of vitamin B12
•800mcg of folic acid (folate)
•100mg of vitamin B1
•100mg of vitamin B6
Like this? Read more:
Sources:
Cardiovascular and thrombophilic risk factors for idiopathic sudden sensorineural hearing loss.        
Sudden Hearing Loss and Folic Acid
Vitamin status and intake as primary determinants of homocysteinemia in an elderly population.
Photo courtesy of YaiSirichai/freedigitalphotos.net