Pulsatile Tinnitus (When your Heart Beats in your Ears)
When you sit up suddenly, do you often hear your heart beat pounding in your ears? Pulsatile tinnitus is a condition that causes unusual whooshing or thumping sounds in one or both ears. Read more about several causes of pulsatile tinnitus and treatments that may help.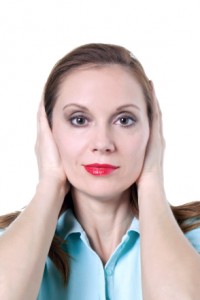 Tinnitus types
Tinnitus is a condition which causes you to hear constant noises that have no external source. There are two main types of tinnitus- pulsatile, and non-pulsatile. Pulsatile tinnitus causes a rhythmic pulse that may sound like your heart hammering in your ears, while other tinnitus symptoms sound like constant ear ringing, buzzing, whistling, or screaming noises.
Most tinnitus patients have the non-pulsatile kind, while about 3% suffer from pulsatile tinnitus.
What causes pulsatile tinnitus?
Pulsatile tinnitus usually results from a vascular problem within the ear canals. If you experience frequent beating sounds in your ears for a period of months, then it's important to see a doctor immediately, in order to rule out possibly life-threatening causes of pulsatile tinnitus.
Causes of pulsatile tinnitus include:
Hypertension, either as a comorbid condition or as a side effect of medications for blood pressure
Benign Intracranial Hypertension (BIH), sometimes triggered by obesity
Benign tumor near the ear, accompanied by hearing loss
Blocked arteries disturbing proper blood flow near the ears
Frequent ear infections of the middle ear
Venous hum resulting from anemia or thyroid disorders
Atherosclerosis, or narrowing of the arteries in the head, often from high cholesterol
Aneurism in the brain causing blood pressure
Treatments for pulsatile tinnitus
There is no single cure for tinnitus, but by treating the underlying conditions causing tinnitus symptoms, many patients are able to find relief.
Treatment options for pulsatile tinnitus may include:
Vitamin B12 supplementation, for treatment of B12 deficiency anemia as a cause of tinnitus
Nutritional herbs, minerals, and vitamins that promote healthy vascular functioning, good circulation
Surgery, for removal of brain tumor or lesion, or straightening of contorted arteries
Low-salt diet, for hypertension-related tinnitus
Weight loss, if buildup of ear fluid from BIH is a tinnitus cause
Change of medications for hypertension, with doctor's approval
Natural therapies for ear health that also sustain healthy sinus conditions
Your turn!
Do you have any questions or suggestions?  Please leave your comments below.
Share with your friends!
If you found this article helpful, then please share with your friends, family, and coworkers by email, twitter, or Facebook.
Like this? Read more:
4 Reasons for Depression and Tinnitus
Understanding Tinnitus- What does it All Mean?
Sources:
Tinnitus: Mayo Clinic
Pulsatile Tinnitus as the Sole Manifestation of an Internal Carotid Artery Aneurysm Successfully Treated by Coil Embolization
image courtesy of qualitystockphotos